American Society of Home Inspectors (ASHI) Certified & Accredited
ASHI is the oldest and most widely recognized non-profit professional association for home inspectors. ASHI's "Standard of Practice" serve as the home inspectors performance guideline, and is universally recognized and accepted by professionals and government authorities. ASHI's Code of Ethics prohibits members from engaging in conflict of interest activities, which may compromise their objectivity.
ASHI is the only Accredited Home Inspection Organization
ASHI standards for certification are more stringent than other home inspection organizations. ASHI has been approved as a recognized accrediting association for its profession-leading Certified Inspector Program by the National Commission for Certifying Agencies (NCCA). The NCCA is the professional services accreditation arm of the Institute for Credentialing Excellence. The NCCA requires compliance with 21 Standards, each of which has multiple components, in order to grant accreditation status to any association.
ASHI is now the only Accredited Home Inspection Association which has completed a recognized third-party certification process. This national certification denotes a more advanced level of knowledge and practice skill required to become an ASHI Certified Inspector.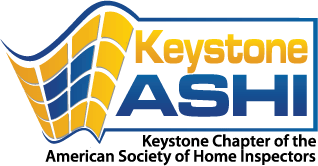 Chris Matteson is an Accredited & Certified Inspector (ACI) of the American Society of Home Inspectors (ASHI).
Who Belongs
Certified Full Members of ASHI are independent professional home inspectors, who have met the most rigorous technical and experience requirements in the industry. ASHI members must pass two written technical examinations and must have performed a minimum of 250 professional fee-paid home inspections. ASHI members are required to obtain a minimum of 20 continuing education credits per year in order to keep current with the latest building technology, materials and professional skills.
Chris is also a past Officer & Vice President of the ASHI Central PA Chapter
In every profession (including home inspecting), there are those individuals who possess the drive, focus, knowledge and ethics to be considered among the best at what they do. Chris Matteson is among the best at what he does. Chris will be an advocate for you whether your buying a new home or selling an existing home. His years of experience have provided him with the knowledge to ensure that inspections are handled with your best interest in mind and maintains a high ethical standard in doing so.
Accurate Home & Termite Inspections
(717) 583-2914
151 W. Chocolate Ave, Ste 145, #31, Hershey, PA 17033
AccurateInspecting.com
Serving Central Pennsylvania and these surrounding cities:
Harrisburg, Hershey, Hummelstown, Middletown, Annville, Lebanon, Palmyra, Lancaster, Lititz, Manheim, Elizabethtown, Mt Joy, Camp Hill, Mechanicsburg, New Cumberland, York